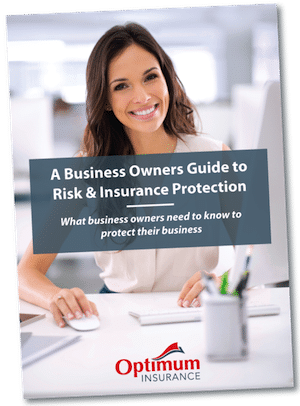 WHAT THIS INSURANCE GUIDE HAS TO OFFER
There's a lot of information out there when it comes insurance, and it can be overwhelming to understand, let alone very complex to know what to do when it comes to insurance for your business.
This guide explains common types of insurance policies and their basis of cover.
It will help you understand what you need to know in terms of policies and your responsibilities, and what you really need to cover your business for total peace of mind.
Featuring obvious and not-so-obvious best practices and types of business insurance, use this guide as a reference when reviewing your insurance, to assess if your existing policies are falling short in protecting your business.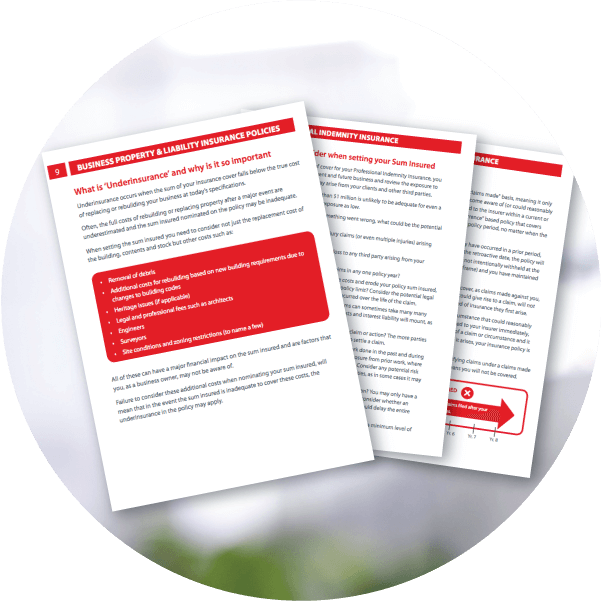 BUSINESS PROPERTY & LIABILITY INSURANCE
Glossary of types of covers
Focusing on three key sections and what they cover and conditions to be aware of
Fire & Perils Insurance, Business Interruption Insurance, Liability Insurance
LIFE INSURANCE FOR YOUR BUSINESS
Types of cover available for business owners, executives and employees with specials skills
Keyman Insurance
Buy-sell Insurance (or Partnership Buyout Insurance)
Business Expenses Insurance
MANAGEMENT LIABILITY INSURANCE
How to protect your assets from costly legal bills
How to protect your personal assets from your business exposures for the day to day running of your business
Types of claims covered
CYBER RISK INSURANCE
Types of First Party and Third Party Cyber Risks
What general insurance policies wont provide cover for
Types of Cover available for Cyber Risks
WORKERS COMPENSATION INSURANCE
Private Insurers / Government Funds / State Schemes
What your responsibilities are when it comes to employing workers and contractors to ensure you're protected
What you need to know when hiring contractors and how it impacts your insurance needs
What to do when an incident occurs
WHAT YOU NEED TO KNOW WHEN HIRING CONTRACTORS
What insurance contractors should have
Obtaining certificates
PROFESSIONAL INDEMNITY INSURANCE
What it is and who needs it
Who can make a claim against you and what circumstances could give rise to a claim
What Professional Indemnity Insurance covers
What a 'Claims Made' policy is – and why you need to know
Questions you need to ask when setting your sum insured to ensure you get the right amount of cover
MACHINERY & TRANSPORT INSURANCE
Cover for Machinery, Plant and Equipment
Types of Cover
CORPORATE TRAVEL INSURANCE
Cover for Overseas and Intra/Interstate Travel
Types of Cover commonly included
YOUR RESPONSIBILITIES
Your duty of disclosure as a business owner when it comes to your insurance (if you don't know this, you could leave yourself open to risk exposure)
What you need to know before entering into insurance contracts
Understanding Change of Risk of Circumstances in your business that impact your policy
CLAIMS NOTIFICATION PROCESS
Types of Claims
What to Do
How to handle third parties
What to do – and what NOT to do – in the event of a claim arising
BEFORE ENTERING INTO CONTRACTS, CONSIDER THE CONDITIONS
How contractual liabilities may affect your insurance
Indemnity and hold harmless clauses and their implications